"My conception rates have dramatically improved and I am getting more pregnancies to sexed than ever before!"– Paul Stubbs, May Farm, Staffordshire.
One producer seeing exceptional results from SexedULTRA 4M is Staffordshire-based Paul Stubbs, who farms at May Farm in Whitgreave, Stafford. He runs an all-year round calving herd of 140 Holstein-Friesian's alongside 70 followers that are averaging 9,800 litres/year on a Müller Wiseman contract.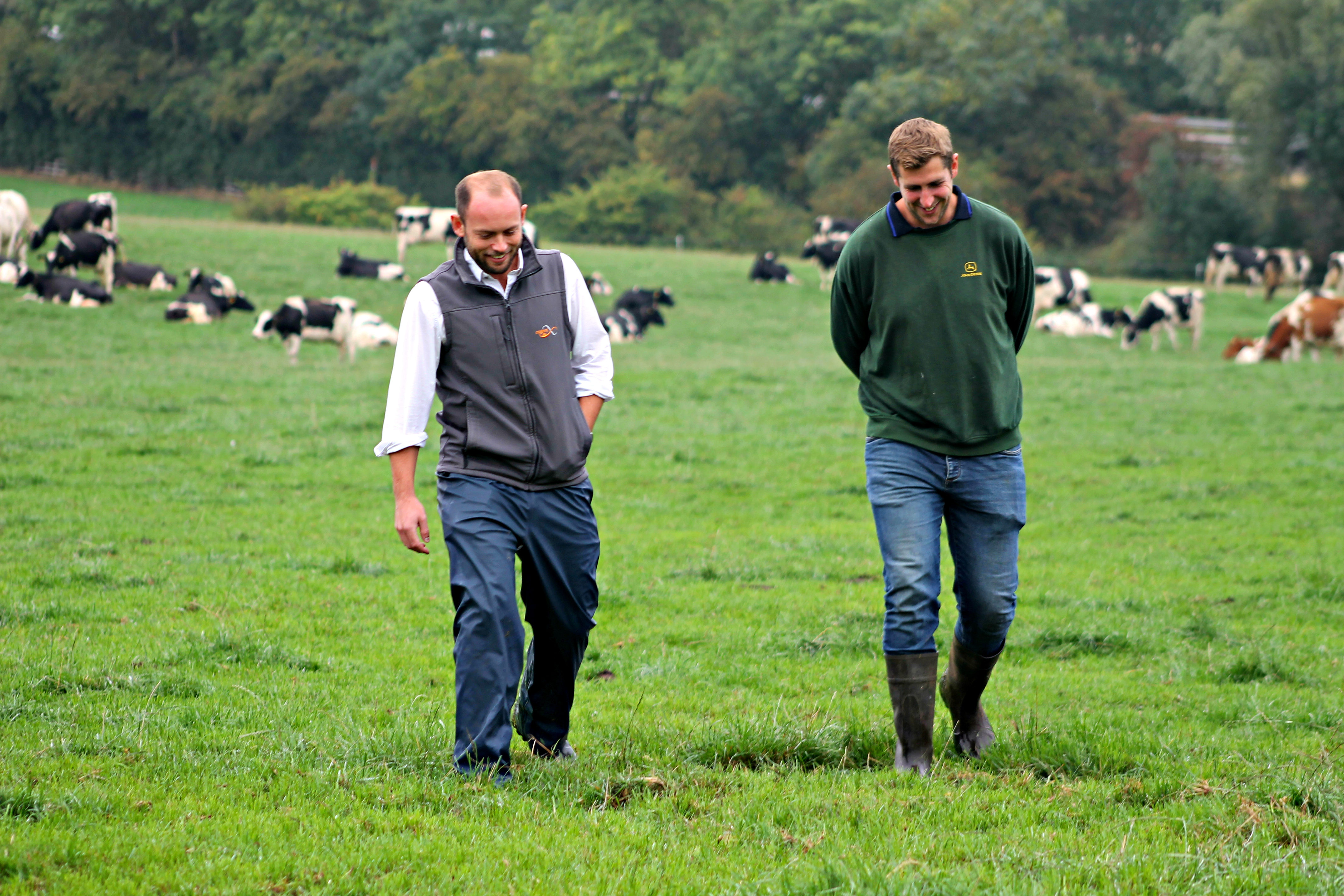 Left Cogent Breeding Advisor – Andy Smith. Right – Paul Stubbs

Paul began using SexedULTRA 4M over 12 months ago and has never looked back. "I purchased my first 20 straws of EDG Rubicon in 4M and was really pleased with the results I was getting. "My conception rates have dramatically improved and I am getting more pregnancies to sexed than ever before. I also have that added reassurance of a heifer calf" says Paul. 12 month's later Paul's confidence has grown with the product in terms of conception and every calf born this year has been a heifer. This confidence has swayed Paul to move to using 100% sexed semen on the farm.
Through the use of SexedULTRA 4M, Paul is able to breed enough replacements from his best animals whilst receiving a generous cash crop from his beef calves that are sold to Buitelaar at 3 weeks old. Paul explained his conception rates to Sexed ULTRA4M are far better than anything he has ever used before which is why he has moved away from conventional semen and will only be using Sexed ULTRA4M and beef semen. "The added bonus for me is being able to use 4M on cows, especially those with poorer fertility and being confident to do so!" adds Paul.
Looking to the future, Paul is hoping to move to a Robotic milking system by Christmas and is looking to start genomically testing his heifers next year. By doing this he hopes to use this knowledge to make more informed decisions on which heifers to breed replacements from, as well as being able to make faster genetic progress in the herd.
Farm Facts
* 60 straws of SexedULTRA 4M Rubicon used mainly on cows and has 29 pregnancies to date.
* Current sires – Holstein sires used include ST Gen Director Chairman, Farnear Delta-Lambda,EDG Rubicon, Stantons Chief.
* The best cows have up to two services with sexed semen. All other services are to British Blue, Springhill Improvement
Q & A
What is SexedULTRA 4M?
SexedULTRA 4M includes four million sex-sorted sperm cells per straw, compared to the previous 2 million. This is the higher number available on the UK market.
How many bulls will be available as SexedULTRA 4M?
The majority of bulls are now available in SexedULTRA 4M.
What are the potential benefits of using 4M?
The higher level of sperm cells mean you can now start using 4M on your cows. It also means there is the potential for less wastage from your herd by having fewer dairy bull calves. Combining the use of 4M with genomic testing of females can offer more accurate and selective breeding of replacements.
How do you ensure you maximise conception rates with SexedULTRA 4M?
You still have to adhere to the basics when it comes to AI. To optimise results, use 4M on first and second lactation animals, cows which have had no prior fertility damaging events and an observed pre-cycle heat. Choose first services on cows displaying strong heats.
For more information on SexedULTRA 4M contact your local Cogent Breeding Advisor, call our freephone on 0800 783 7258 or visit www.cogentuk.com/sexed-ultra.